Buxus and patio pot combination
Please note: This combination is made up of one Buxus and one pot



Position: partial shade
Compost: a good soil-based compost such as John Innes No.3
Rate of growth: slow-growing
Hardiness: fully hardy

This is a classic pairing, which when potted, will look stunning sitting on the patio. If you buy two, you can use them to frame a doorway, path or set of steps. Buxus is one of the best plants for creating topiary. This one is currently in a 5lt pot, and has been clipped into a neat 30cm ball. Maintenance is easy as they just need a light clip each year in mid- to late summer to keep them in shape. The pot it comes ready to plant into is simple but stylish. Made from a synthetic material, which is light (easy to move about), non-porous (helps prevent plants drying out), and frost and UV-proof (they take the worst of the weather in their stride). Measuring 40cm in diameter and 33cm deep, it has a 27 litre capacity so has ample room for the plant to grow on. The slick graphite finish will go with virtually anything.


Garden care: Ensure that the compost is never allowed to dry out and cut back plants in mid- or late summer. Carry out rejuvenative pruning in late spring. After pruning apply a top-dressing of a balanced slow-release fertiliser such as blood, fish and bone (organic) or Osmacote (inorganic) around the base of the plant, ensuring that none touches the leaves or stems.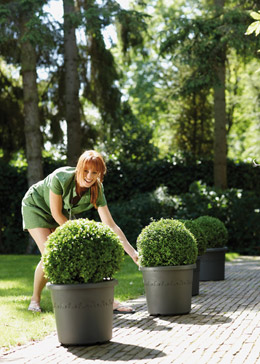 | | | | |
| --- | --- | --- | --- |
| Buy all 2 items for the combination | This item should be despatched in stock | Total £42.98 | Add To Bag |
Items included (click on thumbnail for more info)
Plant
Price
Qty.
Availability
Total

common box - ball

£29.99
1
in stock
£29.99
£12.99
1
in stock
£12.99