Bay laurel and glazed pot combination
Position: full sun or partial shade
Compost: a good soil-based compost such as John Innes No.3
Rate of growth: slow-growing
Flowering period: March to May
Hardiness: frost hardy (needs winter protection)

Bay trees are effortlessly elegant evergreens. This one has been trained to form a half standard (lollipop) shape with a 25cm diameter head, which when potted up into the blue glazed ceramic pot, will add structre and substance to the garden. The aromatic leaves of the bay can be used in cooking to favour sauces, and stews and other savoury dishes, so keep it close to the kitchen if possible. Potting compost is not supplied, but we would recommend a good soil-based compost such as John Innes No.3.

Measurements of pot:

Height: 31cm
Diameter: 33cm




Garden care: Keep well-watered during the growing season and feed with a slow-release fertiliser such as Osmocote. Clip established plants lightly twice during the summer months to retain a balanced shape, using secateurs not shears. Bays are tolerant of most conditions, provided it is sheltered from strong, cold winds, and is not kept too wet in winter.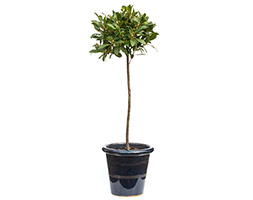 Buy all 1 items for the combination
Please note some items are unavailable
This item is unavailable
Total £24.99
Items included (click on thumbnail for more info)
Plant
Price
Qty.
Availability
Total

bay laurel (½ standard)

£0.00
0
available to order from summer
£0.00
£24.99
1
in stock
£24.99